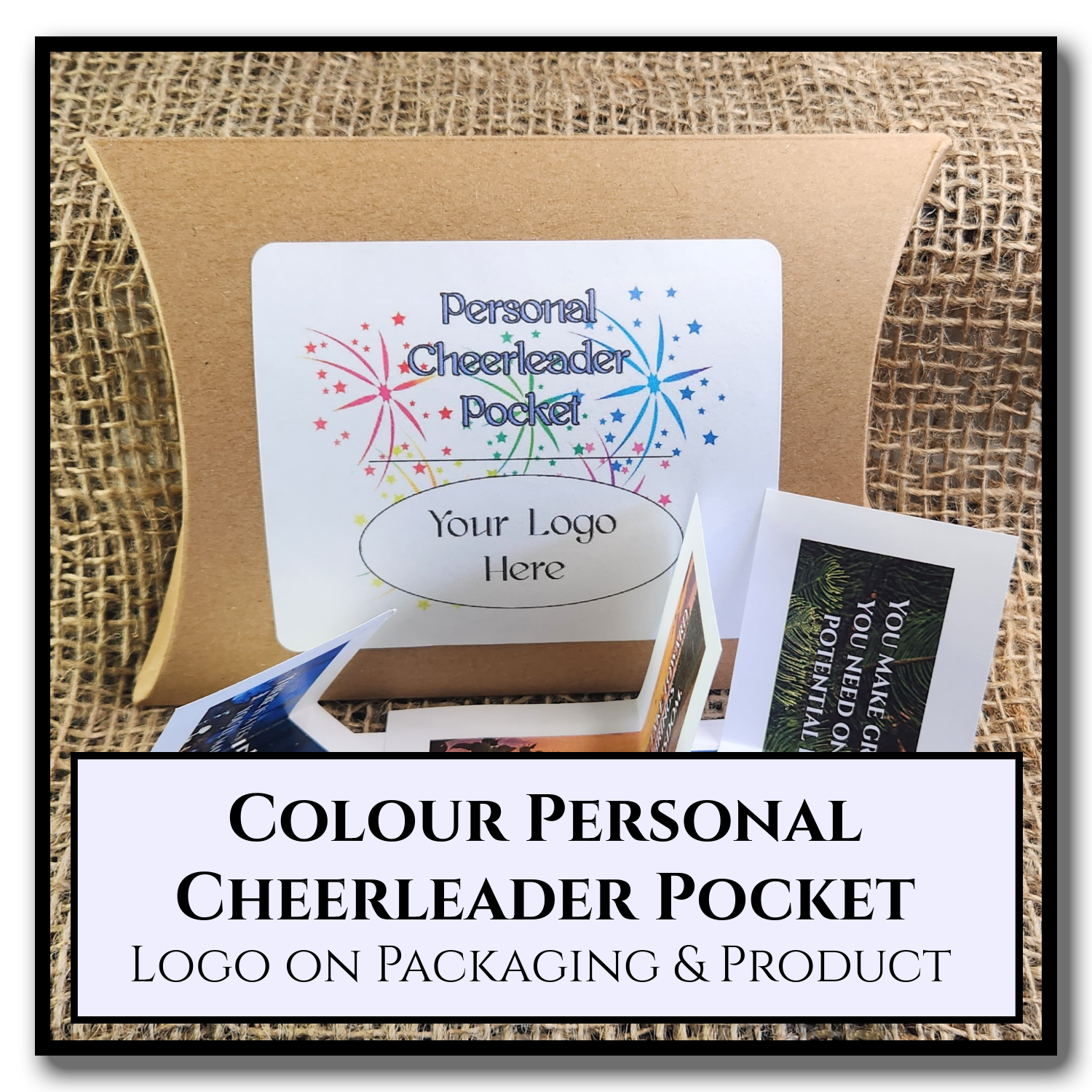 Colour Personal Cheerleader Pocket - COLOUR LOGO ON PACKAGE & PRODUCT
On Sale
Select how many you'd like
Bundle: B01
The Personal Cheerleader Pocket was Created by The Ancient Millennial
Inside this enchanting pocket-companion, you will find 24 delightful notes, carefully crafted to uplift and inspire. Each time your customers reach in and pull out a note, they will be met with a burst of encouragement that will leave them smiling from ear to ear.
With its eye-catching design and beautifully illustrated notes, the Personal Cheerleader Pocket will capture the hearts of all who receive it. The charming colours and playful illustrations will add a touch of joy to any environment, spreading positivity wherever it goes.
The Personal Cheerleader Pocket is a unique and thoughtful giveaway that will not only make your customers smile, but also remind them that they have a cheerleader by their side, supporting them through every step of their journey.
Your logo is featured prominently on the packaging label, ensuring you get the recognition you deserve for such a fun gift! Then again on the notes themselves reinforcing your brand with every word of good cheer.
Personal Cheerleader Pocket size size: 6.5" x 4.25"
Note size: 2" x 4"
Label size: 4" x 3.25"
White Paper
Price Per Pocket
10/pocket = $5.00 + $200 product set-up fee
25/pocket = $5,00 + $200 product set-up fee
50/pocket =$5.00 + $200 product set-up fee
100/pocket = $4.80+ $200 product set-up fee
500/pocket = $3.75+ $200 product set-up fee
1000/pocket = $3.20+ $200 product set-up fee
Please email your logo jpeg to: theancientmillennialUBG@gmail.com and a representative will reply within 24 hours to confirm we've received your logo. In the body of the email please have your name, phone number, package and bundle option. (Ex: 1000 Bundle: B01)
There is a one time per product $200 set up fee to have your logo on the product. & package. We will keep your logo on file for any other LOGOED purchases in the future. You will be given a purchase number which you will be asked to submit during checkout when applicable.
**NOTE: If you have already submitted a logo for this product, please purchase from here: https://theancientmillennial.com/b/E9CPg and answer yes to the yes or no question at the check out and give the number you were given by our representitive. That number will ensure your logo is on both product and package.
Free shipping in Canada. No Tracking.
Contact me directly before ordering for package tracking.
6-10 days before shipping. Shipping will take 5-10 days.
Please use the contact form with the subject heading "rush job", if you need your order delivered in less than 3 weeks.
No refunds. But, feel free to contact me if there are any issues.